1
« on: May 14, 2017, 10:02:36 AM »
Engine Size and Fuel Consumption
In C# Aurora, missile and ship engines follow a single fuel consumption rule. The modifier is equal to SQRT (10 / Engine Size in HS). Thanks to alex_brunius for the formula.
The new rule creates a smooth transition for both engine types, which is more realistic and consistent, provides a bonus to larger ships, makes the fuel portion of missile design more interesting (as fuel is not a major concern at the moment) and allows larger engines to be designed beyond the current 50 HS limit.
This will complement the new sensor changes as they will reduce missile ranges anyway (described in the changes discussion thread but not published here yet)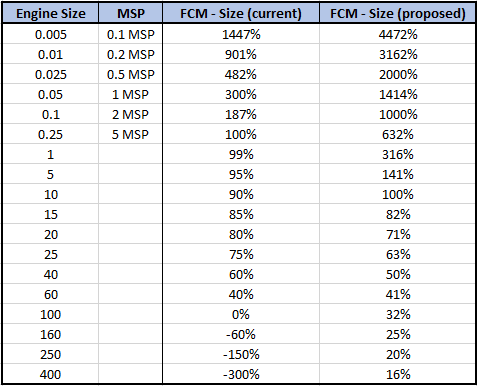 As a result of these changes, a new Maximum Engine Size tech progression has been added. The starting max engine size is 25 HS. The research progression is 40 HS, 60 HS, 100 HS, 160 HS, 250 HS and 400 HS, with the costs ranging from 2,000 RP to 60,000 RP.