1
« Last post by alex_brunius on January 23, 2022, 03:25:10 PM »
OOC: Sorry for the delays in posting nation starting detail updates, nation leaders have been working hard to define their backstories and select their starting perks on our discord and it should hopefully be ready soon. In the meantime let's continue following the story of Julia:
Colonel Julia Silva, The Trip to the Future
She wasn't used to luxury at all but more at home in the harsh climate, uncomfortable atmo-suits and habitats they were testing back in Chile. Yet here Julia was sitting in what was apparently… ( she briefly flipped through the safety card as they prepared for takeoff ) ..a Boeing 797 "Futureliner". The pilot with a hint of Arabic accent cheerfully informed them that the Futureliner was the fastest commercial airliner ever built, yes even faster than the old Concorde and thanks to the remarkably advanced engines made by glorious Socialist American friends the futureliner would take just 5 hours and 40 minutes to reach their destination in Dubai! The futureliner is named for its ability to arrive "before it started" due to time zones, although that is only when we are flying west, today we are flying east he continued to explain.
It was clear it was a brand new plane and she was in the most Luxurious business class seat imaginable. Being employed by the Federation of Nations and heading to their prestigious conference apparently had some "perks". The airplane hardly even had time to lift-off before she fell asleep as the sleep deprivation hit her with a vengeance.
Julia found herself softly awoken by the rising light some hours later, seat reclined almost flat and blanket over her. Breakfast with silverware and table cloth as they started descending for landing, ¡Dios mío! this service was awkward and strange but somehow pleasantly relaxing as well. The key was to not get used to it because if she did manage to get into deep space one thing was for certain, the explorers that far out would not be having an abundance of comfortable luxuries and it would be a matter of survival not comfort…
Most people heading into Dubai from the airport were still traveling by car or train, but they were not most people now. Julia and her colleagues were traveling by Emirates complimentary Air Taxi service, directly to the conference destination. She could see several dozens of the other aircars buzzing around among the magnificent skyscrapers of the Dubai Skyline as the colleagues all chatted about the amazing technological progress. The things that just a few milligrams of neutronium or duranium could do to steel alloys, or how mercassium and uridium were to revolutionize life support systems, research, deep space exploration and sensors.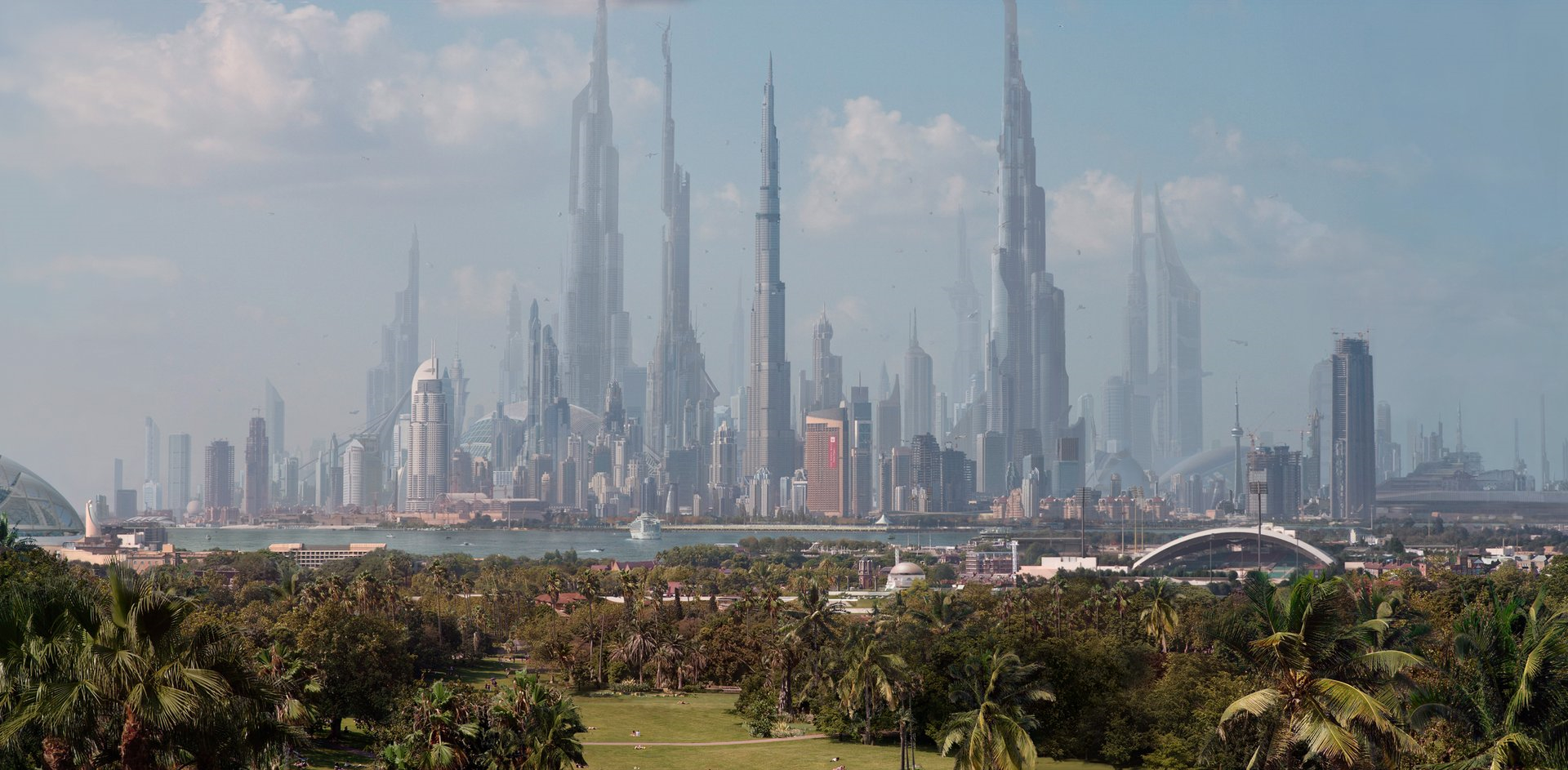 So this was the headquarters of the Federation of Nations, tasked with the challenging mission of keeping the fragile peace between the four very different major nations and the hundred or so warlords and other smaller fractured states. Arguably a lot of wishful thinking, more realistically their mission was to make sure any conflicts didn't escalate into yet another nuclear armageddon this time with Trans-Newtonian warheads. This powerful organization was founded just 5 years ago but had spread quickly over the entire city as the massive investments that were so desperately needed due to the declining oil reserves poured in from all corners. It looked like almost half the city was under construction as well, with two towers higher than 1km each being built, one on each side of the Burj Khalifa. The Federation had also been put in control of all of the old major nuclear armed military bases, ports and airports around the world to dismantle and disarm most of them, not that there were many left still in working order after world war 3 though…
Julia had no interest at all in getting involved in the many resolutions and intricate politics of the Federation but she did spot one interesting resolution that the Pacific Commonwealth of Nations had put forward to promote Space Exploration which was up for voting soon. It had caught her attention and now she was following the debates hoping it would pass:
Julia had already applied to the FoN Space Academy training program and although it was much smaller than the academy programs the 4 major powers had started, it was regarded as one of the finest and most professional in all matters except for warfare. Graduate officers from the program were seen as neutral experts with respected knowledge in diplomacy and science. She would soon know if her Science officer application was accepted or not and she hoped that her rank of Colonel earned from the current project would carry some weight. The glowing reviews from involved industry partners in PCN and Europe that contributed with expert knowledge of shelters from WW3 (finding new use in habitat modules) could also help.
Before Julia's dreams of exploring deep space could be realized though she knew she would need training, and the world would need advanced TN engines to power the Survey ships with. In fact she should start already now with attending the conference Keynotes held by her colleague Robert who worked with the USAR on Engine technology ( even if she heard quite a bit of his report had been "censored for security reasons" ) and the one from Dr Miyakawa about detection of Trans-Newtonian resources as well to build her skills in those areas and maximize her usefulness out there in Space!